Book An Appointment
Appointments can be made either online, by telephone or by calling in at the reception desk. You can either book an urgent on the day appointment (if available) or go for a pre-bookable appointment.
Our Appointment System
Pharmacy & Self-Care
Your pharmacy can advise you on minor illness without the need of an appointment. Please speak to a pharmacist first.
Pharmacy & Self-Care
Pharmacists are qualified healthcare professionals who can offer clinical advice, over the counter medicines and their use, to effectively and safely manage a range of minor health concerns. They can also help you to decide whether you'll need to see a doctor. You don't need an appointment and you won't even be asked to make a purchase. Every pharmacy also has a private consultation area for you to talk about your symptoms in private if you prefer.
Book a Routine Appointment
We kindly ask that all patients try and stick to one problem per consultation, where possible. The main reason for this is clinical safety.
We know that getting an appointment with the doctor is sometimes difficult and that some patients 'save' their problems and present them to the doctor at the same time, with or without a list. We also know that the clinician may run late. All of this increases the tendency for patients to present multiple problems to their doctor/ANP (advanced nurse practitioner) at one consultation.
Each appointment is 10 minutes long. Ten minutes really is not a lot of time, even for just one problem. E.g. 1 minute to get to the doctor's room and sit down, 3 minutes to tell a history, 3-4 minutes to perform targeted examination, 2 minutes to explain, advise and treat. There is no time left of the ten minutes to write up notes, fill out forms, dictate referrals or speak to other team members for advice.
Presenting the clinician with multiple problems means that there is a real increased risk that mistakes will be made and things may be missed as the clinician may be inclined to rush, particularly if other patients are waiting.
One of Primary Care's main purposes is to detect serious disease early. Presenting multiple problems to the clinician, not all of which may be serious, increases the difficulty of this task – it is like finding the 'needle in a haystack'.
Doctors cannot see huge numbers of patients with multiple problems and continue to practise safely and effectively. A stressed doctor will struggle to be a good safe doctor.
We do consider that GP appointments are a limited resource and we would kindly ask that such a service be used with care and consideration.
Therefore please do not be offended if the doctor asks you to re-book for your other problems. We are working in your best interests in order to keep you safe.
We do offer double appointments – please ask receptionist or GP, if this is possible
How To Book
Working together allows us all to get the best out of our health service
Complete an eConsult
eConsult enables NHS based GP practices to offer online consultations to their patients.

eConsult is the most widely used digital triage tool in NHS primary care, built by NHS GPs for NHS patients, designed to enhance patient access, improve practice efficiencies and signpost patients to the right place at the right time for their care.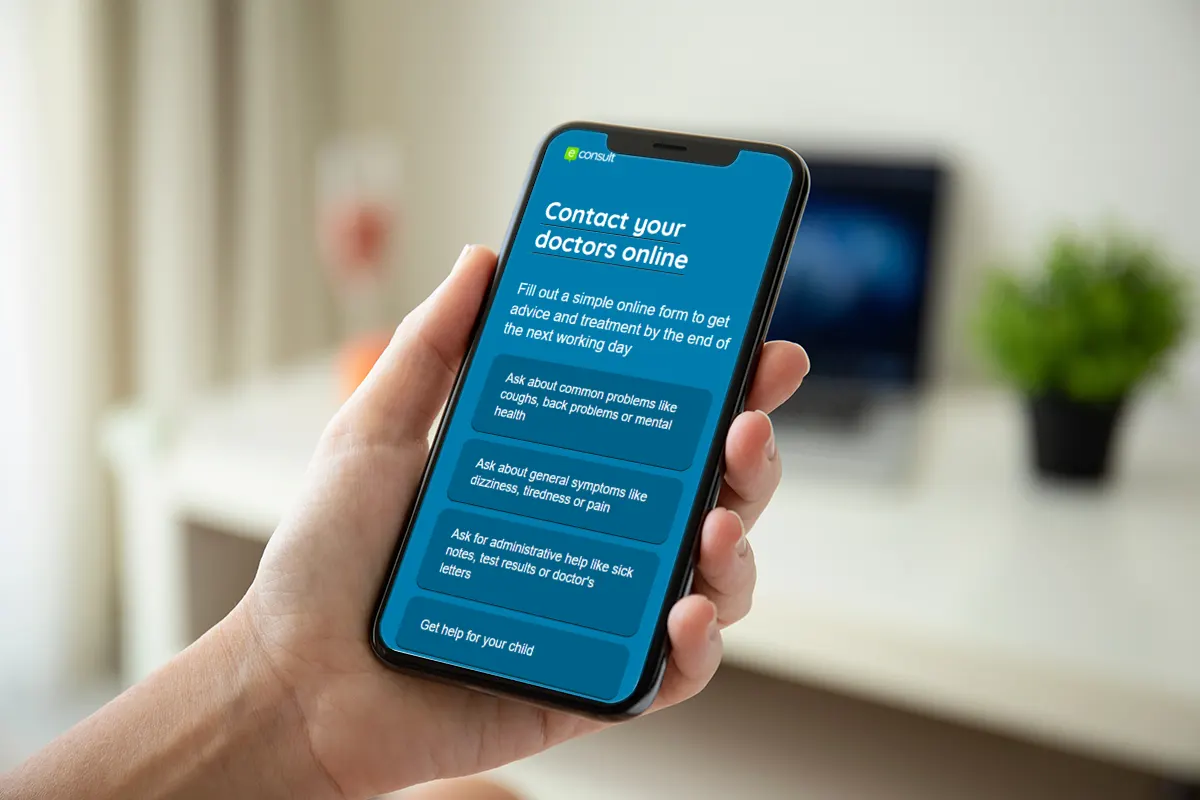 How to Get the Best Out of an Appointment with your GP
Please read before coming to your appointment
Please switch off your mobile phone or text whilst in consultation
Remember that you may be examined and make sure you wear clothes that can be easily removed. eg. don't wear corsets if you have tummy pain
Please take outer coat off before going into the consultation. Take children's outer clothes off before coming into doctor's room. Please try to re-dress children when you return to the waiting room, where possible.
If you are asked by the doctor to return, please do so and don't assume that your test is normal if you do not get recalled – the doctor may be expecting you to come back as instructed
If you wish to make an appointment to speed up a hospital appointment, telephone the hospital in first instance or our practice secretary.
If you have a list of things to discuss with the GP please mention the most important one first, as a further appointment may be necessary
Remember – some doctors are not natural typists! so please be aware that the doctor may need to concentrate on ensuring information on your medical record during your consultation.
Your appointment is only for the person whose name is on the appointment book
Finally, try telling the doctor what is really worrying you at the beginning of the consultation
Requesting a Home Visit
Whilst we encourage our patients to come to the surgery, where we have the proper equipment and facilities available, we do appreciate this is not always possible.
 In this respect, if you do need a home visit, you can help us by calling reception before 10.30am.
You may only request a home visit if you are housebound or are too ill to visit the practice. Your GP will only visit you at home if they think that your medical condition requires it and will also decide how urgently a visit is needed. Please bear this in mind and be prepared to provide suitable details to enable the doctor to schedule house calls.
You can also be visited at home by a community nurse if you are referred by your GP. You should also be visited at home by a health visitor if you have recently had a baby or if you are newly registered with a GP and have a child under five years.
Chaperones
All patients are entitled to have a chaperone present for any consultation or examination.
Please request this at the time of booking, or speak to your GP or Nurse.
Cancel Your Appointment
We know people forget things, cancelling GP appointments being one of them. Remember to cancel your appointment if you don't need it.
If you are unable to keep your appointment, please give us as much notice as possible so that your appointment can be offered to someone else.
If you are cancelling please telephone us on 01795 585 255 as soon as possible, and at least 30 minutes before your appointment time. This will enable us to offer your appointment to someone else.
Alternatively you can cancel your appointment online using Patient Access or The NHS App if you are signed up to the service.
Please remember that there may be a shortage of appointments and when you fail to attend you have prevented someone else from being seen in your place. On average about 230 appointments are missed each month
Cancellations notified less than 30 minutes before the appointment time will be recorded as failure to attend (DNA).
Repeated failure to attend booked appointments is a significant waste of NHS resources
Life Threatening - Go to A&E
If you or someone you know has a life-threatening condition, such as loss of consciousness, a sudden confused state, chest pain, breathing difficulties etc, you should call 999
In an EMERGENCY call 999.
Emergencies are situations that cannot be managed at home and may be life threatening
We use cookies to help provide you with the best possible online experience.
By using this site, you agree that we may store and access cookies on your device. Cookie policy. Cookie settings.
Functional Cookies
Functional Cookies are enabled by default at all times so that we can save your preferences for cookie settings and ensure site works and delivers best experience.
3rd Party Cookies
This website uses Google Analytics to collect anonymous information such as the number of visitors to the site, and the most popular pages.
Keeping this cookie enabled helps us to improve our website.